24 Creative Uses for Wire Hangers You Won't Believe
24 Creative Uses For Wire Hangers
      On the surface wire hangers are a normal, everyday household item, but surprisingly there are countless ways to use them. Everyone knows you can use a wire hanger to roast marshmallows or unlock a car door, but in this article we'll share 25 of the most unique, genius ways to use wire hangers.
1. Make a sculpture
Get your creative juices flowing and sculpt a beautiful piece of wire artwork, like this one by Gavin Worth.
2. Give your cat a home
Learn how to make a nifty tent for your cat out of wire hangers and a tee shirt in this tutorial!
3. Keep your necklaces from tangling
Craft an artsy necklace holder out of wire hangers. You can also bend and add on paper clips as needed.
4. Blow giant bubbles with a wire hanger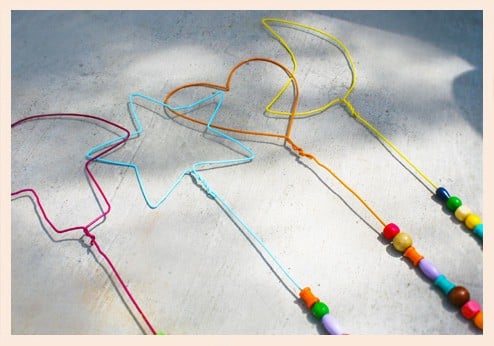 A wire hanger can easily be bent into a giant bubble wand for endless fun with the kids.
5. Hang your toilet paper
Need a toilet paper hanger? A handy wire hanger will do the trick! Over? or Under?
6. Spruce up your Christmas tree
With a pair of pliers and a few beads, you can easily create your own homemade Christmas ornaments.
7. Organize your flip flops
Find a better way to store your sandals by snipping off the sides of a hanger and bending them into a hook shape. See the step-by-step tutorial here.
8. Make your Halloween costume 10x better
DIY fairy wings can be made using wire hangers and pantyhose. Don't forget to add some color with paint and glitter!
9. Fix a clogged drain
Who needs a plumber when you have a wire hanger on hand? 
10. Put a fancy plate on display
Snip up some wire hangers and bend them into the shape shown above to display special plates on your dining room wall.
11. Hang-dry your towels
This is a cute, rustic way to hang a dish towel or hand towel in your home.
12. Make a wind chime out of wire hangers
Spruce up your patio with a colorful wind chime made of wire hangers and beads.
13. Grow veggies or flowers
Wire hangers make very lightweight and durable plant supports.
14. Combat static
Did you know that rubbing a wire hanger across a piece of clothing will eliminate static cling? You can also use this method on your hair.
15. Store your scarves
You can use a wire hanger to organize your scarves by snipping and twisting it to create multiple loops.
16. Decorate your home with wall art
Twist and twirl up some wire hangers to decorate your walls. You can even paint the hangers to accent your wall color, or add some extra decor to it.
17. Never lose track of your keys again
Everyone knows how annoying it can be to misplace your keys, but these rustic, wire hanger hooks are the perfect way to keep them in one place.
18. Make a festive wreath
Simply shape a wire hanger into a circle, then add as many holiday-themed decorations as your heart desires. Here's a tutorial for the ornament wreath above.
19. Save space in your closet
Slip your shoes into this convenient wire hanger shoe holder to save closet space. Learn how to make it here.
20. Show off your plants
A hanging planter made of thick wire hangers is the perfect way to showcase some potted succulents on your patio.
21. Get crafty
If you're an artsy person and need somewhere to keep track of all your ribbon, a wire hanger is the best solution. Cut one end to make a hook and latch, then slide rolls of ribbon onto it.
22. Hang your hats
This is an adorable and unique way to hang your hats. Find the complete tutorial here.
23. Let it burn
Hanging candle holders add the perfect final touch to a romantic evening. All you need to make these are some wire hangers, pliers, and tealight candles.
 24. Use wire hangers to store your rings
To make this convenient ring holder, trace your hand on a piece of paper and bend a wire hanger to its shape. After securing it onto a mount, you're ready to start storing your rings!
SEE ALSO: 10 LAUNDRY TIPS AND TABOOS TO MAKE YOUR CLOTHES LAST LONGER
Who knew wire hangers could make life so much easier? As you can see, hangers aren't just for hanging up your clean laundry. There are many more ways to use them than we can imagine. Can you think of one we forgot to list? Leave us a comment below and let us know your creative wire hanger idea!